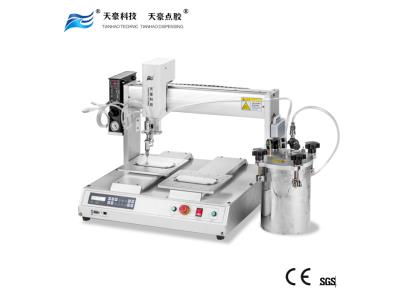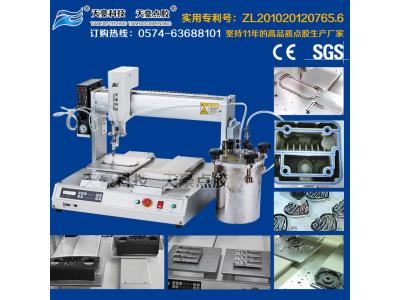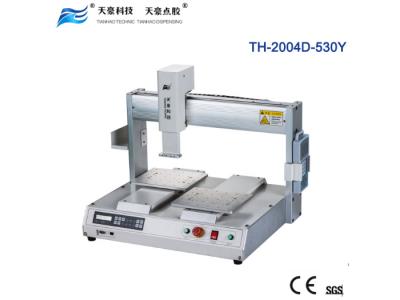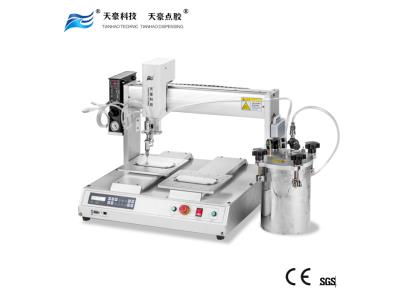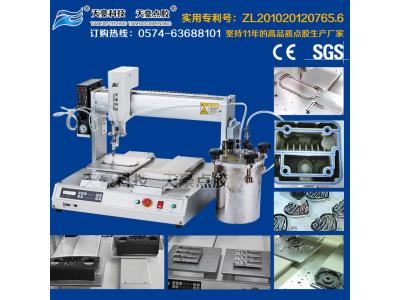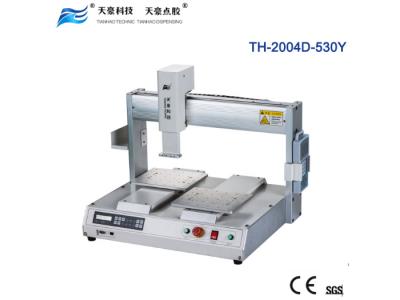 Desktop Industrial Dual Table Conformal Coating Machine
Trading Company,Manufacturer,Scientific Researcher
Product Details

Company Profile
1. Dual station model available. dual table left and right output to achieve uninterrupted operation in order to improve production efficiency. 2. Available in three and four axis models 3. User-friendly design, compact and attractive appearance, easy to learn. 4. Tianhao graphics editing software can import such as NC, AI, DXF, JPG, BMP and other format files. 5. Professional dispensing software based entirely on the dispensing process development. 6. PLC Controller, Easy to program - Dedicated dispensing software eliminates the need of complex robot language programming. 7. Increase the parameters display with programmer, more intuitive operation. 8. Each axis with 2 linear guide rails, providing greater stability. 9.Z-axis brake motors, greatly increased the stability of the equipment and motion accuracy 10.Single machine can operate without pendant
The TH-2004D-530Y-KJ series of desktop robots series a dual station model that can allow for a fast change over of parts.
T&H Dual Station Desktop Dispensing Robot with Dual station systems include two independent working areas.Ideal for fast change over of identical parts or two dispensing operations.Ideal for form-in-place gaskets, adhesives, potting, coating and filling
Features:
1. Dual station model available. dual table left and right output to achieve uninterrupted operation in order to improve production efficiency.
2. Have a big capability cartridge, No need high frequently for replacement of material
3. User-friendly design, compact and attractive appearance, easy to learn
4. Tianhao graphics editing software can import such as NC, AI,. DXF,. JPG, BMP and other format files
5. Professional dispensing software based entirely on the dispensing process development.
6. PLC Controller, Easy to program - Dedicated dispensing software eliminates the need for complex robot language programming
7. Increase the parameters display with programmer, more intuitive operation
8. Each axis with 2 linear guide rails, providing greater stability.
9. Z-axis brake motors, greatly increased the stability of the equipment and motion accuracy
10. Single machine can operate.
Specification:
| | |
| --- | --- |
| ITEM | TH-2004D-530Y |
| X/Y1/Y2/Z working range | 500 x 300 x 300 x 100mm |
| Standard | CE Approved |
| XY/Z Maximum Load | 15 kg / 6 kg |
| XY/Z Speed | 0.1-800/350 mm/Axis |
| Repetitiveness | ±0.01mm/Axis |
| Data memory capacity | 999programs |
| Display way | LCD display |
| Drive System | Precision micro-stepper motor |
| Transmission | Timing Belt/ Precision Linear Guides |
| Edit Programming | Handheld Programmer |
| I/O Signals | 4 Inputs / 4 Outputs |
| Patterns | Dots, Line, Potting, Filling, Encapsulation, Sealing, Coating, Jetting |
| Power Supply | AC110V/220V )Internal conversion |
| Working Temperature | 0-40℃ |
| Relative Humidity | 20-90% (no condensation) |
| Dimensions (W x D x H) cm | 84.5x75x78 |
| Weight with packed | 57kgs |

Complete accessories dispensing kit
| | | | |
| --- | --- | --- | --- |
| No | Name | ITEM | QTY |
| 1 | TH-2004D-530Y Robotic | TH-2004D | 1pcs |
| 2 | Liquid dispenser | TH-2004KJ | 1pcs |
| 3 | Dispensing signal line | 3core-4core | 1pcs |
| 4 | Dispenser fix frame | TH | 1pcs |
| 5 | Teach pendant | TH | 1pcs |
| 6 | Teach pendant Cable lin | TH | 1pcs |
| 7 | Fix broad with valve | TH | 1pcs |
| 8 | valve | TH-600J | 1pcs |
| 9 | Glue tube | Using for valve | 1pcs |
| 10 | Air tube | using for valve | 2pcs |
| 11 | tank | TH-100Y | 1pcs |
| 12 | needle | TH | 10PCS |
| 13 | POWER cord 220V220V | 220V | 2pcs |
| 14 | Air tube | 6X4mm | 1pcs |
| 15 | wrench | TH | 1set |
| 16 | Product jig | As sample | 1set |
| 17 | Screw | TH | 1set |
| 18 | Connect Drawing | TH | 1set |
| 19 | Manual operation | TH | 1pcs |
| 20 | CD | TH | 1pcs |
| 21 | Ex-work Report | TH | 1pcs |
| 22 | Machinery certificate | TH | 1PCS |
| 23 | Warranty card | TH | 1PCS |
| 24 | CE certificate | TH | 1PCS |
| 25 | catalogue | TH | 1pcs |