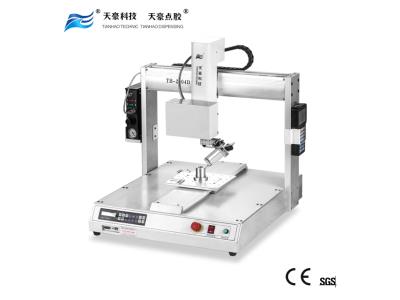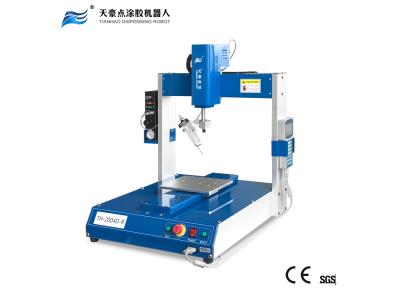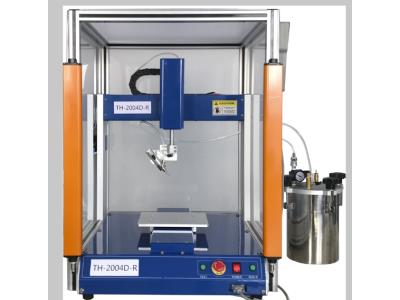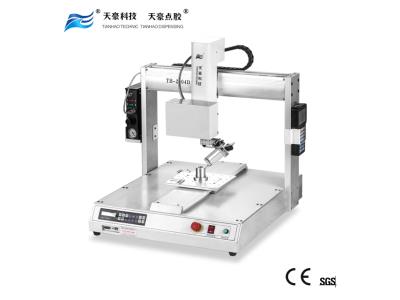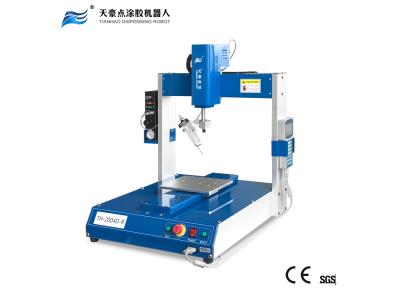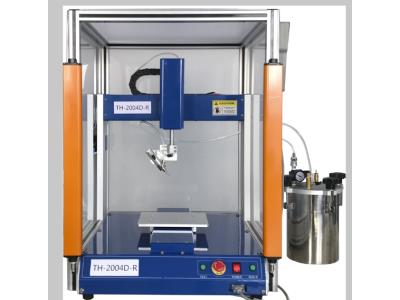 4 axis Benchtop dispensing robot for adhesive,glue,silicone
Trading Company,Manufacturer,Scientific Researcher
Product Details

Company Profile
With specialized PLC dispensing software and CAD download capabilities, TIANHAO DISPENSING automated dispensing robot are easy to program and quick to set up. True four-dimensional motion control allows easy programming of dots, stripes, arcs, compound arcs and patterns on different planes. These capabilities enable our customers to tackle more complex projects that require precision fluid dispensing and placement, while increasing product quality and yield.
TH-2004D-R
4 axis Benchtop dispensing robot
Patent Number:ZL 2010 2 0120777.9
FEATURES
1. Feed system with syringe dispensing,Full 4-axis simultaneous positioning.
2.Four axis and four-linkage running, R-axis: 360°rotation for ID and OD dispensing
3.High precision liquid controller system.
4.For R axis ,it is equipped with precision Stepper motor and speed reducer which can make our robot work smoothly.
5.It is easy to edit programs through teach pendant, when you finish parameters setting, it can work without teach pendant which can avoid staff misuse.
6.Our robot is small and delicate, equipped with technology from Japan and structure from Germany, it is very light and durable, also convenient to carry.
7.Adjustable voltage 110V/220V。
Application
TH-2004D-R provides a 4-axis rotational "U" action for applying adhesives and sealants on curved, vertical or difficult to reach applications.
Liquid Material: adhesive, glue, silicone, RTV, cyanoacrylate, grease, anaerobic, and UV cure resins.
Packing capacity: toothpaste, bags (bulk), syringes, namesake fizzy, small cans, etc.
Specification:
Model

TH-2004D-R

Operating Range

X?Y Axis(mm)

400x400mm

Z Axis(mm)

100mm

R Axis

±360Program Capacity

9999 Programs

Data Capacity

Up to 8000 points

External Interface

For teaching pendant

For USB

For external devices(Optional)

External Input/Output

4 Inputs /4 Outputs (Including)

16 Inputs/16 Outputs(Extensible)

Power Source

AC90~132V/AC180~250V(Optional)

Working Temperature

0~40℃

Relative Humidity

20~90%(No condensation)

Power Consumption

300W









Help you more:
· Increase production efficiency
· Promotion processing precision control
· Improve product quality
· lower production costs, reduce rejected product
· Eliminate material waste
Complete with an accessory dispensing kit:
| | | | |
| --- | --- | --- | --- |
| NO | Name | ITEM | QTY |
| 1. | TH-2004D-300R | 1pcs | TH-2004D-300R |
| 2 | Teach pendant/ fix frame | 1pcs | TH-DT001 |
| 3 | Teach pendant Cable line | 1pcs | TH-DTC01 |
| 4 | Dispensing signal line | 1pcs | TH-DSL02 |
| 5 | Dispenser fix frame | 1set | TH-DXF03 |
| 6 | Tool | 1pcs | TH-T04 |
| 7 | Screw | 1pcs | TH-DS05 |
| 8 | Power Cord | 1pcs | TH-DP06 |
| 9 | Manual operation | 1pcs | |
| 10 | U disk (video. Manual) | 1pcs | |
| 11 | Ex-work Report | 1pcs | |
| 12 | Machinery certificate | 1pcs | |
| 13 | Warranty card | 1pcs | |
| 14 | CE certificate | 1pcs | |
| 15 | Catalogue | 1pcs | |