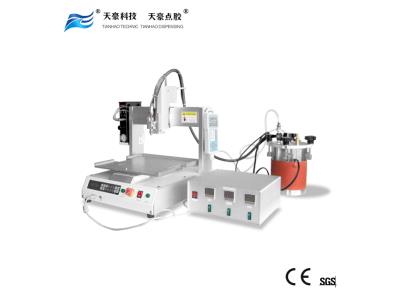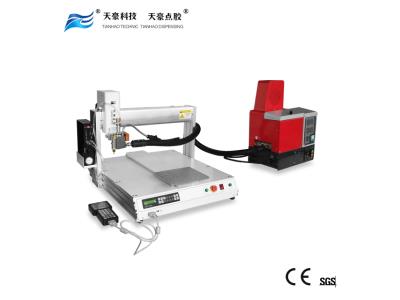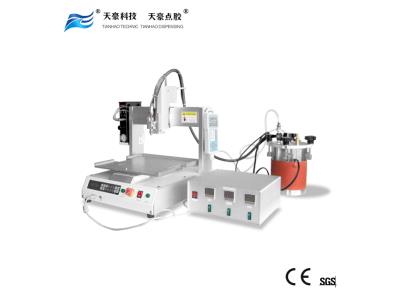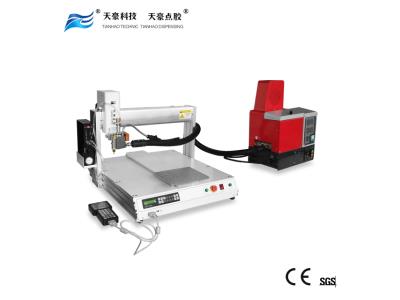 Benchtop dispensing robot for Hot melt adhesive glue
Trading Company,Manufacturer,Scientific Researcher
Product Details

Company Profile
1. CAD file download capability allow changes to dispensing path. 2. The XYZ axis with 2 linear guide rails, more stable. X, Y, Z axis equipped with 3. imported bilinear guides and precision stepper motors, which run more stable than similar products, the load is higher. 4. Z-axis brake motors, greatly increased the stability of the equipment and motion accuracy, when that 6kg maximum z axis load will remain in a upper position after switching off the power. 5. Machine is able to operate without PC control 6. program edit via teach pedant, Lines, Circles, Arcs, Continuous Paths, 3D linear interpolation. 7. Instead of traditional manual operation mode 8. Repeatability of 0.02mm 9. Resolution 0.001mm
TH-2004D-300ML
Benchtop dispensing robot for Hot melt adhesive glue
Patent Number:ZL 2010 2 0120765.6
FEATURES
1.Feed system of hot melt heating tank., avoid frequent add hot melt glue, Good for granular and striped solid hot glue.
2.Precision heating Valve is Precision suck back valve, close glue quickly, ensures no dripping
3.High precision liquid controller system.
Application:
Good for hot melt spraying or coating,filling on clothes and carve cards, Diaper wet. Filter
Liquid Material: hot melt glue, hot melt adhesive.
Packing capacity: granular hot melt adhesive and striped solid hot glue.
Specification:
ITEM

TH-2004D-300

TH-2004D-400

TH-2004D-500

X/Y/Zworking range

300 x 300 x 100mm

400 x 400 x 100mm

500 x 500 x 100mm

Dimensions (WxDxH) mm

500 x 580 x 610

600 x 680 x 610

700 x 780 x 610

Weight

60kgs

65kgs

72kgs

Standard

CE Approved

XY/ZMaximum Load

10 kg / 3 kg

XY/Z Speed

800/350 mm/Axis

Data memory capacity

9999programs

Display way

LCD display

Drive System

Precision micro-stepper motor

Transmission

Timing Belt/ Precision Linear Guides

Edit Programming

Handheld Programmer

I/O Signals

4 Inputs / 4 Outputs

Patterns

3DLines, Circles, Arcs, Continuous Paths, XYZ

simultaneous (CP) 3D

Power Supply

AC110V/220V Internal conversion

Working Temperature

0 ~40℃

Relative Humidity

20~90% (no condensation)
Help you more :
· Increase production efficiency
· Promotion processing precision control
· Improve product quality
· lower production costs, reduce rejected product
· Eliminate material waste
Complete with an accessory dispensing kit:
| | | | | |
| --- | --- | --- | --- | --- |
| No | Name | ITEM | QTY | Part# |
| 1 | TH-2004D Robotic | TH-2004D | 1pcs | TH-2004D |
| 2 | Hot melt tank controllers | TH-143 | 1pcs | TH-143 |
| 3 | Dispenser fix frame | TH | 1pcs | TH-DXF03 |
| 4 | Dispensing signal line | 3core-4core | 1pcs | TH-DSL02 |
| 5 | Teach pendant/fix frame | TH | 1pcs | TH-DT001 |
| 6 | Teach pendant Cable line | TH | 1pcs | TH-DTC01 |
| 7 | Fix broad for valve | TH | 1pcs | THDXF04 |
| 8 | Heating valve | TH | 1PCS | |
| 9 | Valve head | TH | 1pcs | |
| 10 | Air tube | | | THA |
| 11 | Workpiece | TH | 1SET | |
| 12 | Connect Drawing. | TH | 1set | |
| 13 | Tool | TH | 1set | |
| 14 | Screw | TH | 1set | TH-DS05 |
| 15 | Manual operation | TH | 1pcs | |
| 16 | U disk(video.manual) | TH | 1pcs | |
| 17 | Ex-work Report | TH | 1pcs | |
| 18 | Machinery certificate | TH | 1pcs | |
| 19 | Warranty card | TH | 1pcs | |
| 20 | CE certificate | TH | 1pcs | |
| 21 | Catalogue | TH | 1pcs | |