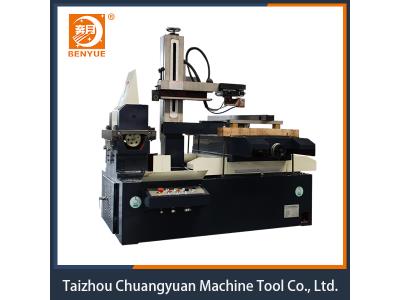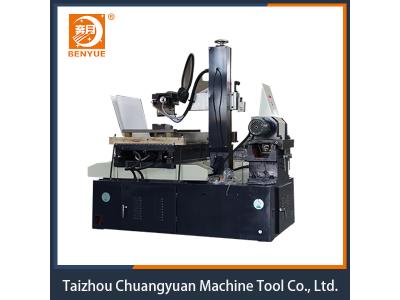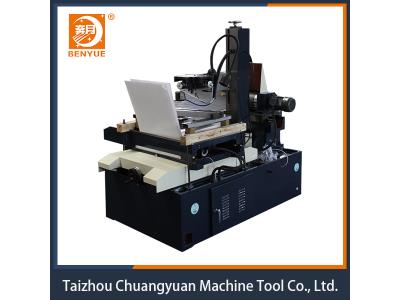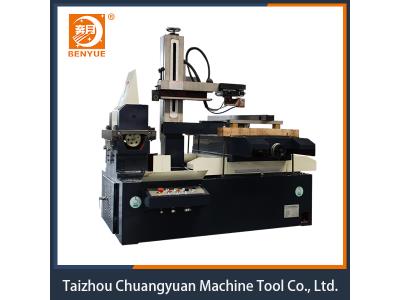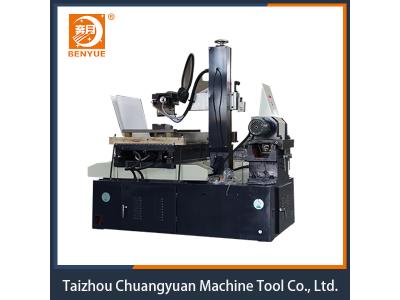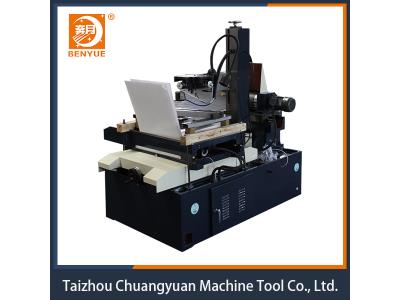 EDM wire cutting machine
Manufacturer

Recommended by CCCME
Product Details

Company Profile
Features of the cnc wire cut edm machine: Special supporting design of the machine with high strength and heavy loading capacity. The machine uses the V-shape long span and long guiding rail structure lined with steel which helps the stability. The feeding wire part of the machine uses the driving system of gearwheel with lower noise and longer life. The maximum diameter of molybdenum wire is <= 0.25mm. The wire tube uses the chroming material with good wear resistance. The cutting accuracy of all direction is less than 0.01mm. Use high precision ball screw, which has high transmission efficiency, good positioning accuracy, long life and well synchronization performance. Use the high precision guide rail with high strength, heavy loading capacity and low resistance. High stability of the machine. The failure rate is almost 0. Apply beakless soft reversing, which prolongs the service life of reversing key. All the machine applies the high precision guide wheel appliance to enhance the accuracy of cutting. All the machine-tools use the laser interferometer to test the accuracy. (Renishaw Laser Test System from the great Britain).
HIGH
SPEED WIRE
CUTTING EDM
DETAILS
TAPER
MEASURING HEAD
Small taper adjustment device, the
largerst taper adjustable to 6°/80mm
CONTROL PANEL
It seems simple and clear ,use-friendly
control.
MOVEMENT
WIRE SYSTEM
Use stainless steel surface , long
service life.
WORKBENCH
It's a flexible processing auxiliary
equipment which suitable for all kinds
of shapes.
Electric system
All the parts are made of brand
products,quality assurance, low
failure rate.
wire edm machine -- Parameter:
| | | | | | | |
| --- | --- | --- | --- | --- | --- | --- |
| Model | Working table size | Travel of working table | Maximum cutting thickness | Taper machining | Maximum load weight | Optimum surface roughness |
| DK7725 | 400x579mm | 250x320mm | 300mm | 3-6°/80mm | 300kg | Ra<2.5um |
| DK7732 | 680x440mm | 320x400mm | 400-500mm | 3-6°/80mm | 400kg | Ra<2.5um |
| DK7735 | 740x470mm | 350x450mm | 500mm | 3-6°/80mm | 450kg | Ra<2.5um |
| DK7740 | 760x540mm | 400x500mm | 400-500mm | 3-6°/80mm | 600kg | Ra<2.5um |
| DK7745 | 920x540mm | 450x630mm | 400-500mm | 3-6°/80mm | 750kg | Ra<2.5um |
| DK7750 | 1147x655mm | 500x800mm | 600-800mm | 3-6°/80mm | 800kg | Ra<1.0um |
| DK7763 | 1380x800mm | 630x1000mm | 600-800mm | 3-6°/80mm | 2000kg | Ra<2.5um |
| DK7780 | 1600x1000mm | 800x1200mm | 400-800mm | 3-6°/80mm | 1500kg | Ra<2.5um |
| DK77100 | 1820x1180mm | 1000x1400mm | 1000mm | 3-6°/80mm | 4000kg | Ra<2.5um |
| DK77120 | 1340x2000mm | 1200x1600mm | 600-1000mm | 3-6°/80mm | 7000kg | Ra<2.5um |
wire edm machine -- Optional:
1.Taper cutting appliance. (±3°, ±30°)
2.Straight guide rail
3.Protective cover
4.high speed controlling system
5.medium-feeding wire controlling system
6.integrated machine appliance
7.autocut system,HL system,WinCut system,HF system
8.DK77 Series can choose the Cutting Magnets
9.DK77 Series can choose the Cutting Aluminium