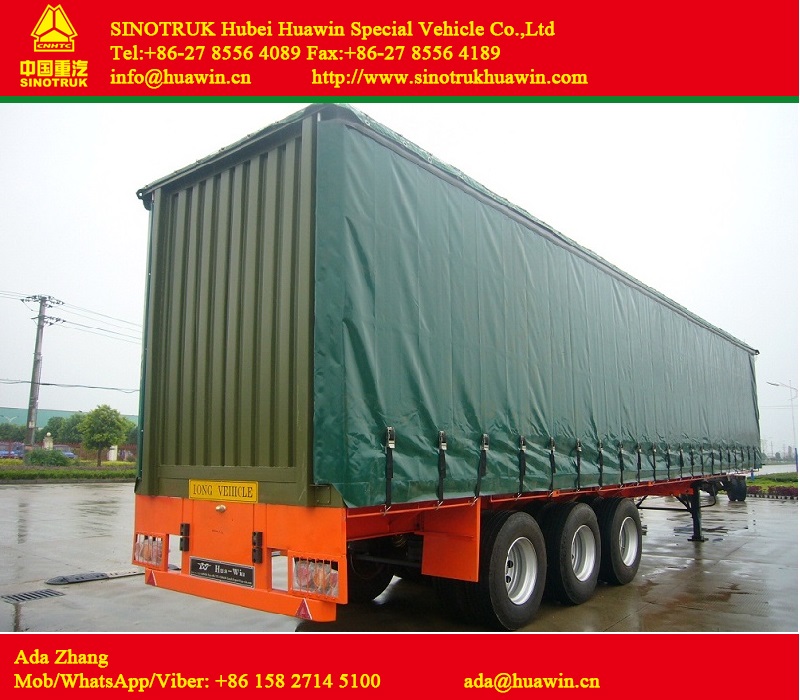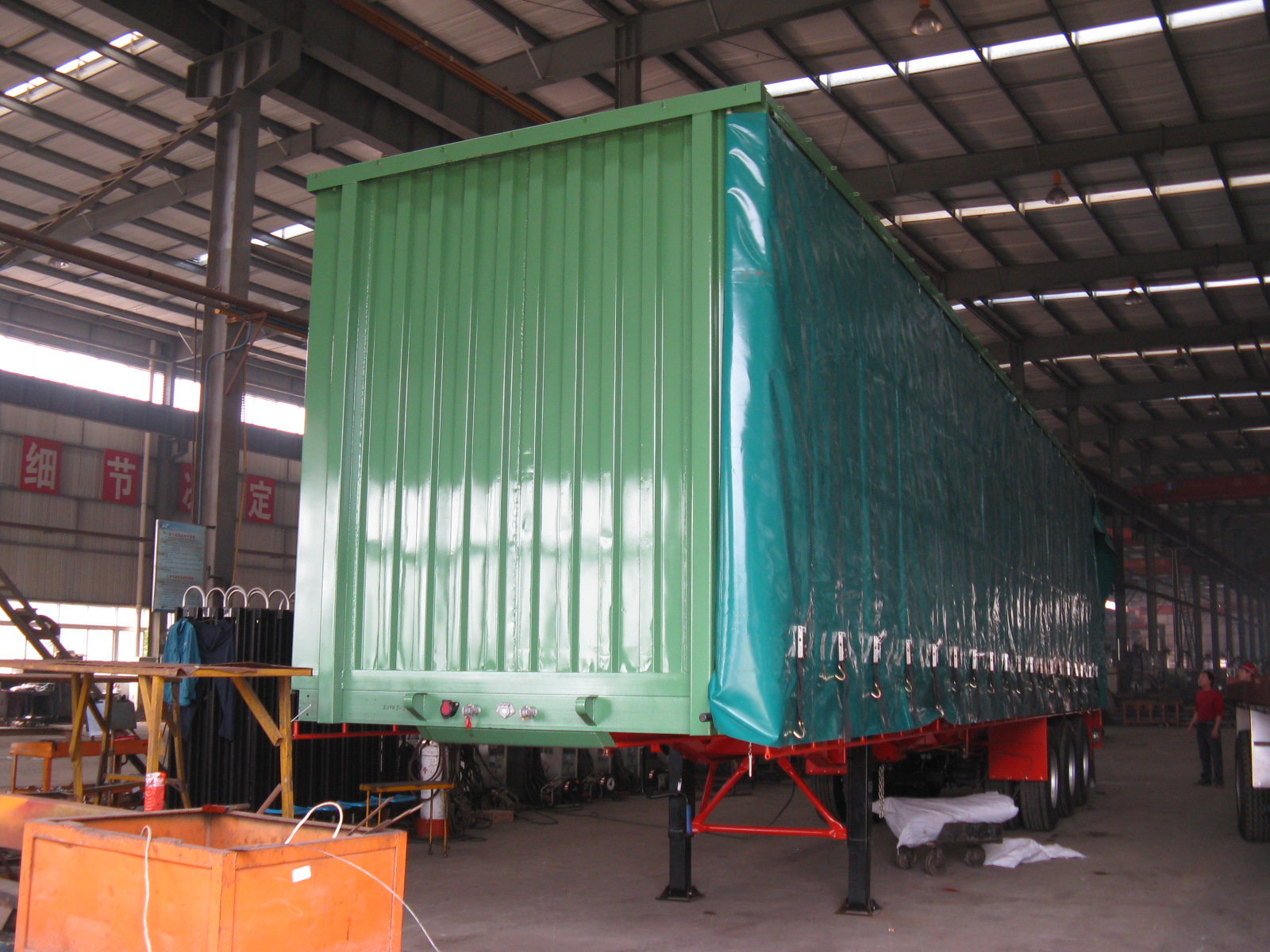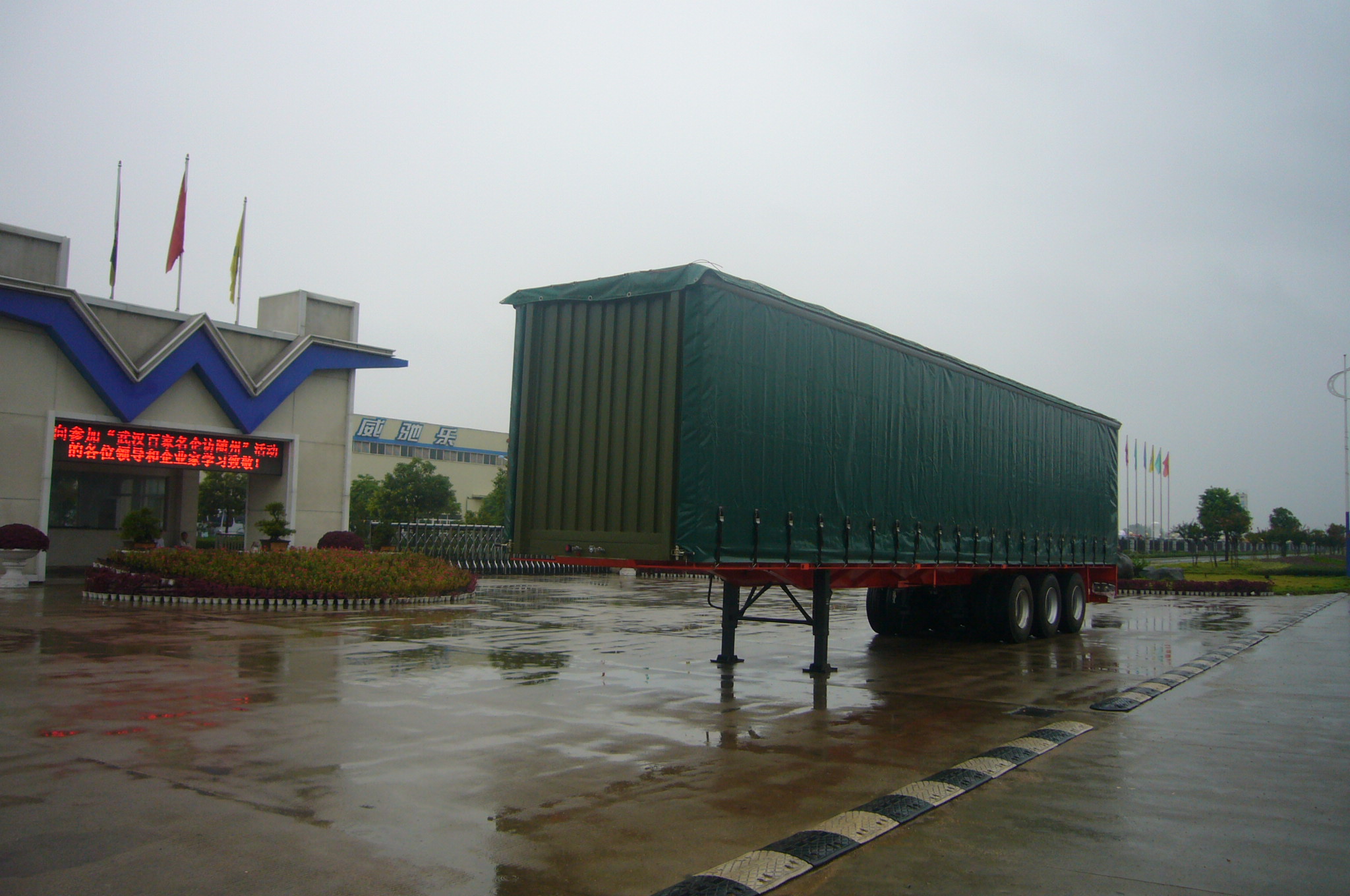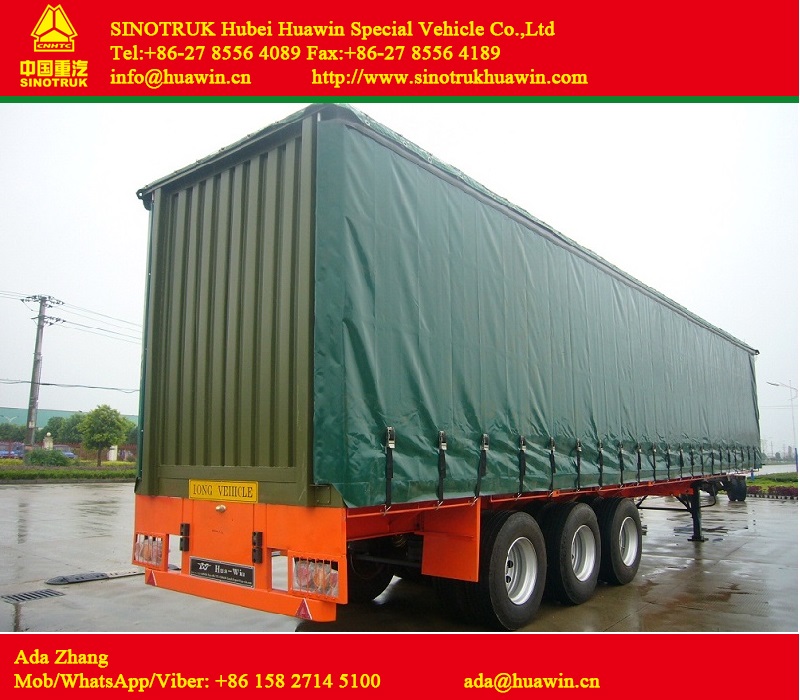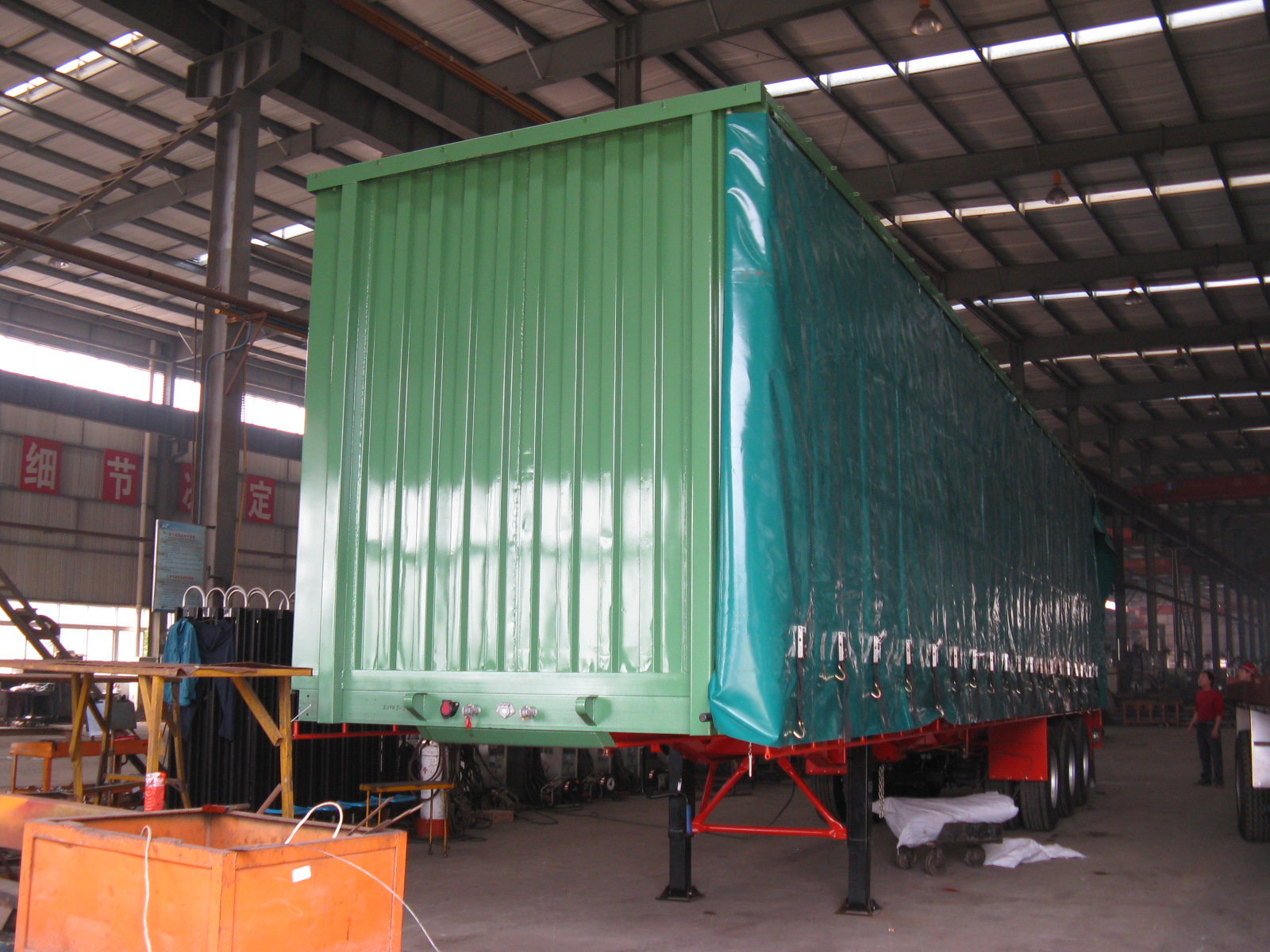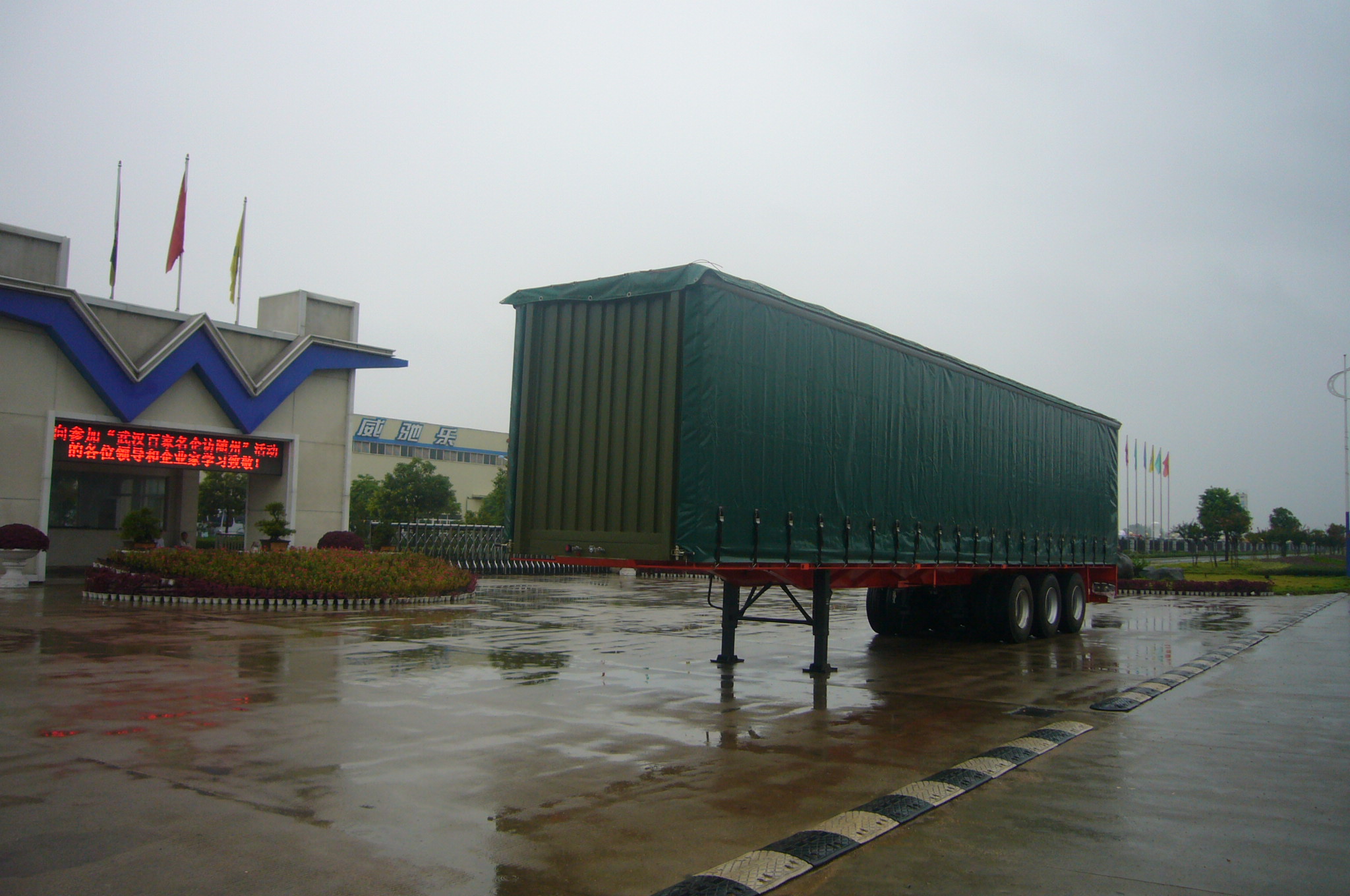 3-Axle Curtain Side Semi Trailer for beer/milk/cola
Manufacturer

Recommended by CCCME
Product Details

Company Profile
3-Axle Curtain Side Semi Trailer for beer/milk/cola
1. MAIN SPECIFICATION
Axle: Germany brand BPW, China top brand FUWA K HITCH, 13-16T axle
Suspension: Germany brand BPW, China top brand FUWA K HITCH, mechanical suspension or air suspension
Curtain Material: PVC, fitted with buckles
Slide Chunnel: Aluminum alloy double slide Chunnel
Kingpin: Germany brand JOST
Landing gear: Germany brand JOST
Tire: 12R22.5 tires, Triangle brand
40FT 3-Axle Curtain Side Semi Trailer
DIMENSIONS

Tare Weight

8500kg

Payload

45000kg

Overall Length

12500mm

Overall Width

2480mm

Overall Height

3950mm

Photo for reference, final product can be made according to exact requirements

SPECIFICATIONS

I beam &Chassis

Heavy duty and extra durability designed I beam; Opting for high tensile steel Q345B, welded by automatic Submerged-Arc processes. Top Flange 14mm,width 140mm; Middle Flange 6mm, height 500mm; Bottom Flange 16mm,width 140mm.

Axle

3 axle

FUWA Brand, 13 ton

Suspension

FUWA brand American design mechanical suspension

Leaf Spring

10-piece leaf spring

Curtain Material

PVC, fitted with buckles

Slide Chunnel

Aluminum alloy double slide Chunnel

King Pin

JOST brand 2" Bolt-in King Pin

Landing Gear

JOST brand Two-speed, manual operating, heavy duty landing gear

Wheel Rim

9.0-22.5 steel wheel rim, 13 pieces

Tire

12R22.5 tire with one spare tire, 13 pieces

Spare Tire

One set of spare tire including a carrier

Braking System

WABCO RE 4 relay valve; T30/30+T30 Spring brake chamber; 40L air tanks

Painting

Complete Chassis sand blasting to clean rust, 1 coat of anti-corrosive prime, 2 coats of final paint

Accessories

One standard tool box
2. COMPANY INTRODUCTION
SINOTRUK is the 1st China truck manufacturer over 60-year history. MAN is its share holder. SINOTRUK HOWO and A7 are sold well in China domestic market and overseas market.
SINOTRUK HUAWIN is key branch factory of SINOTRUK Group. SINOTRUK SINOTRUK HQ manufactures truck chassis and HUAWIN manufactures truck body and trailer. SINOTRUK HUAWIN trailers have been exported to Australia since year 2009. Better products, better prices.
3. Q & A
1) Q: How do you ensure quality of your products?
A: 1. We only use famous high-quality trailer parts from Germany or China.
2. Automobile delivery test will be carried out before the vehicle leaves the factory, such as rain test, road test.

Recommended by CCCME
Location:China
Business Type:Manufacturer
Main Products:Tractor,Heavy Dump Truck,Mixer,Fuel tank vehicle,Refrigerator truck,Street sprinkler,Garbage truck,Fire Truck,Heavy duty truck,Refuel tank truck,Dry Bulk Tank Semi-trailer
The China National Heavy Duty Truck Group Co., Ltd. (CNHTC / SINOTRUK) is one of the worlds leading manufacturers of trucks, as the top one heavy duty truck manufacturer and exporter in China, SINOTRUK, which employs about 150,000 people, has production facilities in 8 countries and sales of products in more than 90 markets. To reach international top production and quality level, in 1983, SINOTRUK successfully introduced STEYR heavy duty truck project, in?2009, SINOTRUK?signed?an?agreement?with?MAN from Germany, MAN becomes the?second?largest?shareholder?of?SINOTRUK and is introducing?its cabin, engine, axle?and?other?parts?into?China. SINOTRUK Hubei Huawin Special Vehicle Co., LTD is located in Suizhou of Hubei province, a branch factory and key member of SINOTRUK. The Hubei Huawin employs 1,000 people which including 200 all kinds of qualified engineers, designers and other researchers, has accumulated rich experienced in manufacturing and designing all kinds of special purpose vehicles (tractor trucks, cargo trucks, crane mounted trucks, garbage trucks, water trucks etc.) and semi trailers (flatbed trailers, tipper trailers ,tank trailers and concrete mixer trailers etc.) SINOTRUK Hubei Huawin Imp.& Exp.Co .,Ltd is the exporting company for SINOTRUK Hubei Huawin Special Vehicle Co., LTD, and focus on international sales all over the world. Working with SINOTRUK and SINOTRUK HUAWIN together with the first-class special vehicle manufacturers in China, we have became one of the most important vehicle exporter in China and gained great popularity&reputation among the markets and customers. Whats more, we have set up overseas offices in Tanzania, Zambia and Philippines, which make us more favored in the competition.More+