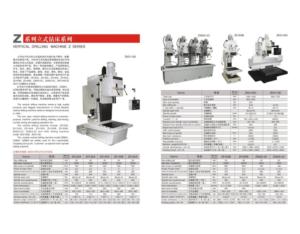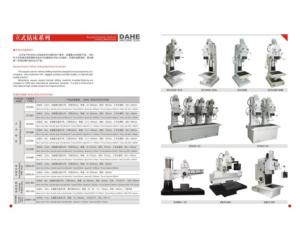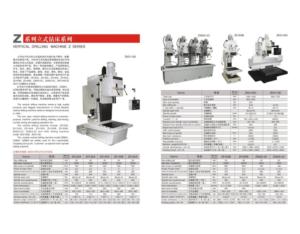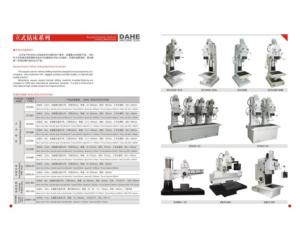 vertical drilling machine
Trading Company
CCCME Member

Recommended by CCCME
Product Details

Company Profile
The square column vertical drilling machines designed and produced by our company, with production first, biggest quantity and best quality, is national high quality product. Modularize square column Vertical drilling machine invented firstly by our comp
Square column vertical drilling machine, which is a unversial machine。It can be used for drilling, counterboring, reaming, countersinking and tapping operations etc.Spindle tapping automatically reversed and jiggle feed, for blind hole and deep hole is extremely convenient .Thismachine enjoys high efficiency ,high rigidity, high accuracy, low noise , moderate range of speed change, contour is novelty, easy operation and maintenance. This machine include:

Z525A, Z5132A, Z5140A, Z5140B1, Z5150A, Z5163A, Z5180A,, Z5625.2C, Z5625.4C, ZK5140 and ZK51100

。
Z5136B, Z5180B ,the base with worktable , remove the worktable can process high-volume parts.
Z5140B, strengthen the spindle , boring hole directly . main drive posts centrifugal friction clutch to reduce the commutation impact. Realization of torque overload protection, machine with return drller device. ..
Z5625.2C. Z5625.4C, two kinds of row type vertical drilling machine is the aberration products of vertical drilling machine .This spindle box is in common using Z5125A base type vertical drilling .The machine is low overall height, small ground occupation, good rigidity .It can be used for small batch production and volume production via semi-automatic cycle.
The module vertical drilling machine model DZB25, DZB40, DZB63 are new products and widely used for single or more spindle and adjusting multiple spindle drilling, tapping etc. after special design. It is widely used for high efficiency and multi-spindle for big batch production.